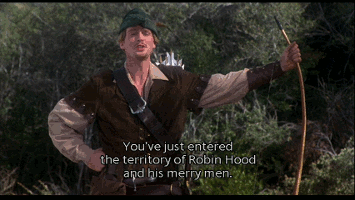 The book called for my attention instantly: the setting is unusual, the plot is unusual, the MC are unusual… Ok, we have seen lots of movies with Robin Hood and Little John and Prince John, the Sherwood Forest, Nottingham, etc, etc, etc. But it was striking the idea of a romance with a man instead of Marian.
Marian here is Robin's sister.
It was strange for me, but I got used to it quickly.
The book has a lot of different parts. That's bad because it means some of them are awesome, and some of them are heavy. The good pages are very romantic: Gamelyn and Robin as friends, then as secret lovers. And God, they are so SWEET.
Gamelyn is Christian, and he lives in a castle. Robin is a pagan and he lives in the forest. Gamelyn hides his heart from his family and Robin hides his druid customs from everyone except his family.
Two worlds that would never understand each other. Pagans are subjugate by Englishmen and homosexuals are a sin for Christians in general.
But they are brave enough to live their desires, because when they are together, they don't have eyes for anything else. But the world was not created only for them, and outside forces (religion, family, politics…) make an appearance and threatens to destroy everything they hold dear.
The problem here is that there is a lot of filler: too many pages about religion, too many pages about druids and magic and hallucinations, too many pages about childhood. Too many pages about flings with passing youths. I loved this book but I also yawned over it.
The most interesting facts happen from halfway of the story on, when Robin and Gamelyn are in their teens and everything surrounding them shatter their little bubble of happiness. Everybody has a say in some moment, and they claim their right to do so. There is a commotion of people and beliefs and confrontations and what began as love ends in hate and loss and revenge vows.
The book ends in a cliffhanger. It's obvious there is a second part, and although I'm undeniable curious about how they would get their HEA after so many years apart from each other, I don't think I would voluntarily offer my time to get bored.
But who knows?